Rowan of the Wood: Christine Rose
May 25, 2010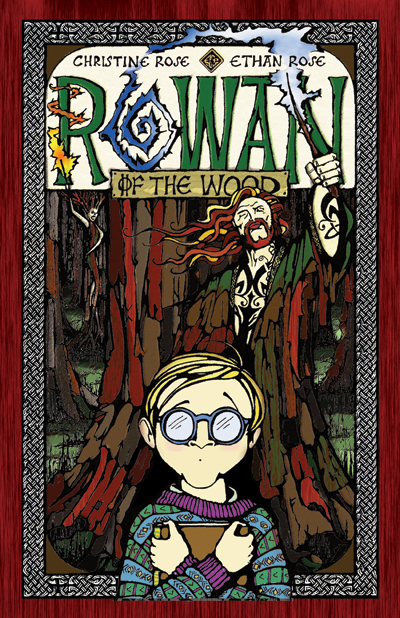 This week I took a stab at reading Rowan of the Wood, a YA fantasy by Christine Rose and winner of the 2009 Indie Excellence Award.  I figured with an award to back it up, it was worth $0.99 to check it out.  Plus I really loved the cover.  Whoever the artist was did a great job.  It's been keeping me company as an iPhone read through a series of interminable doctor's appointments (spring allergies suck, just sayin').
Here's the description from Amazon:
Rowan of the Wood, winner of the Indie Excellence Award for YA Fiction and a Finalist for the 2008 National Best Books Award in the Young Adult Fiction category, tells the story of a young boy Cullen who meanders through the redwood forest every day on his way to school, losing himself in books and fantasy worlds full of elves, fairies, and wizards. He loves to escape to these magical lands because reality for him is not fun at all. Cullen and his two misfit friends, Maddy and April, are terribly unpopular amongst the other kids, and they regularly endure ridicule and bullying. Cullen's life changes incredibly one day when he uncovers an ancient magic wand that is inhabited by a powerful wizard, Rowan. Inadvertently, Cullen releases Rowan from the wand and finds himself possessed by the wizard, with a great power and an obsessive need to find a lost love. When danger is near, Rowan emerges from the frightened child to set things right. He and Cullen try to understand what has happened to them, only to discover a deeper problem. Nearly fourteen centuries ago, Rowan and his bride Fiana were separated on their wedding day. Rowan manages to survive, trapped in time, until Cullen releases him from the wand. Fiana uses dark magic to stay alive as she continues searching for Rowan. Over the centuries, Fiana descends deeper into the darkness becoming something evil and eventually giving up her search…until a young boy brings Rowan back to her.
The book has a bit of a Harry Potter feel with the orphaned boy in glasses with a love of magic.  The story itself was interesting, and there was some really lovely prose, particularly dealing with the description of nature and such.  But the voice seemed to change somewhat over the course of the story.  It alternates between Cullen/Rowen in the present and following Fiana through time and Fiana started sounding far more modern than she should have (People in the 14th century do not say things like "What is up with him?") and using references to things that didn't exist yet (like tissues).  The writing vacillated between beautiful and immature, and I would have liked to see more emotional development of the characters.  It's a cliffhanger ending, totally leaving the door wide for the sequel.  I think the author has potential and will continue to improve with practice.  The story world was interesting enough that I think I'd be willing to try the next one to see how she improves.
Overall, I give Rowan of the Wood 2 and a half cookies.
You can find Rowan of the Wood at Smashwords, Barnes and Noble,  and Amazon.