Posting Schedule
As we\'re just getting rolling here at ATFE, you can expect a new e-book review every Tuesday, plus a smattering of other e-book related posts as they occur to us. And maybe the occasional review of a traditionally pubbed book, simply because we can\'t resist them.
The author sent me a copy of this ebook and it sat on my Kindle for several weeks as my to do list is off the charts long. I wasn't sure if it would be something I would be "into" or not. It's not really my normal genre. But it was a novella, on the short side, so I thought: hey, what the hell?
I couldn't put it down. This is one of the best things I've read in a VERY long time. I'm not sure there are enough cookies in the universe to give this author. The story is told in 1st person from multiple viewpoints as several characters go back to their small town to attend a funeral. They each look back over the last time they were in the town, a summer during their childhood when they were particularly cruel to a new boy named Patrick McCoy who they nicknamed "Patsy."
In the first chapter one of the main character's, nicknamed Farm Boy, narrates:
His death began the moment we saw him. It just took a long time to consummate that death. We began to kill him when we first saw him…
The characters of this novella are each well-drawn and realistic. No two characters sound the same (something very hard for most authors to pull off who try to explore with multiple first person POV).
The editing is great. I don't think I noticed a single typo if there were any.
The ending was a surprise and literally made me break out in goosebumps. And that rarely happens for me. I'm rarely that surprised and usually see the author's intentions telegraphed chapters before the ending.
This book explores cruelty and how very easy it is for a human being to turn into a monster if he or she doesn't guard themselves very carefully from it. The psychology of the novella was spot on, and I will definitely check out future work from this author.
I give this novella 4 and a half cookies. (Yes, I know, 4 is the max, and I've done this before, but I really loved this story.)
The only downside is the cover art looks self-published. However, this is definitely one of those times where you should NOT judge a book by it's cover. But that's why you've got me here… to tell you these things. 😛
This book can be purchased on the Amazon Kindle for $1.99.
FTC Disclaimer: This book was sent to me free by the author
So I was reading a post over at Everybody Needs A Little Romance about affordable e-reads (which is what we're all about here at ATFE), and somebody in comments mentioned this website where you could compare prices of ebooks.  I hadn't ever heard of a site that would let you do that, though I'm a big fan of sites like Booksprice for comparing online prices for paper books.  So anyway eBookPrice.info is the site, and of course I had to try it out.
You can search based on Author, Title, ISBN, or Keywords/Series.  Then you can select your reader and format.  I have to say, if you're looking to find the best price on something, I think it's smart to stop here first!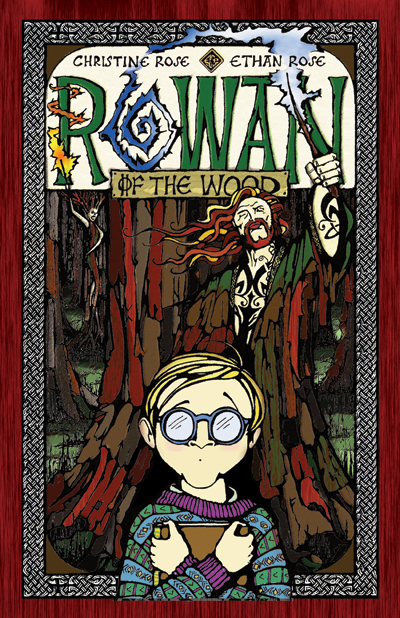 This week I took a stab at reading Rowan of the Wood, a YA fantasy by Christine Rose and winner of the 2009 Indie Excellence Award.  I figured with an award to back it up, it was worth $0.99 to check it out.  Plus I really loved the cover.  Whoever the artist was did a great job.  It's been keeping me company as an iPhone read through a series of interminable doctor's appointments (spring allergies suck, just sayin').
Here's the description from Amazon:
Rowan of the Wood, winner of the Indie Excellence Award for YA Fiction and a Finalist for the 2008 National Best Books Award in the Young Adult Fiction category, tells the story of a young boy Cullen who meanders through the redwood forest every day on his way to school, losing himself in books and fantasy worlds full of elves, fairies, and wizards. He loves to escape to these magical lands because reality for him is not fun at all. Cullen and his two misfit friends, Maddy and April, are terribly unpopular amongst the other kids, and they regularly endure ridicule and bullying. Cullen's life changes incredibly one day when he uncovers an ancient magic wand that is inhabited by a powerful wizard, Rowan. Inadvertently, Cullen releases Rowan from the wand and finds himself possessed by the wizard, with a great power and an obsessive need to find a lost love. When danger is near, Rowan emerges from the frightened child to set things right. He and Cullen try to understand what has happened to them, only to discover a deeper problem. Nearly fourteen centuries ago, Rowan and his bride Fiana were separated on their wedding day. Rowan manages to survive, trapped in time, until Cullen releases him from the wand. Fiana uses dark magic to stay alive as she continues searching for Rowan. Over the centuries, Fiana descends deeper into the darkness becoming something evil and eventually giving up her search…until a young boy brings Rowan back to her.
The book has a bit of a Harry Potter feel with the orphaned boy in glasses with a love of magic.  The story itself was interesting, and there was some really lovely prose, particularly dealing with the description of nature and such.  But the voice seemed to change somewhat over the course of the story.  It alternates between Cullen/Rowen in the present and following Fiana through time and Fiana started sounding far more modern than she should have (People in the 14th century do not say things like "What is up with him?") and using references to things that didn't exist yet (like tissues).  The writing vacillated between beautiful and immature, and I would have liked to see more emotional development of the characters.  It's a cliffhanger ending, totally leaving the door wide for the sequel.  I think the author has potential and will continue to improve with practice.  The story world was interesting enough that I think I'd be willing to try the next one to see how she improves.
Overall, I give Rowan of the Wood 2 and a half cookies.
You can find Rowan of the Wood at Smashwords, Barnes and Noble,  and Amazon.
Hey, listen up all you indie writers, because here's someone who did some stuff right. I want to tell you how I got sucked into buying (this is not a super-cheap) ebook and reading it.
Check it out a Fictionwise. Well, I'll just borrow the blurb.
The Earl of Pensby lost his wife in a fire, one that left him scarred in more ways than one. He's surly, brooding, and according to half the ton, a monster. Except to Agatha Trumwell, she sees so much more than his scars. But with a pitiful dowry, unfavorable looks, and a tendency to speak her mind, she has nothing to commend her, or so she believes. Can these two lonely souls find love amid the gossiping beau monde while someone plots to tear their fragile world apart?
This was a good blurb. I've read a lot of lousy blurbs lately, but this one grabbed me. Let's see…scarred hero, brooding! (I am powerless against the brooding hottie hero), social outcast, plain jane heroine, who is more than what people think, two people alone in the world…yep, pretty much pushing buttons in every sentence of that blurb. So now I want to like this. A bit pricey, so I'm going to have to go down into the except to talk myself into buying it. Now, you will actually have to go read the excerpt elsewhere because I'm not lifting that many words that aren't mine. So go, read, come back.
A lot of books will give you the beginning. The carefully polished first page or two that were sent off in the query or proposal or what have you. And sometimes it's a while before you get to the hook. If the writing's not good, I don't even get that far. I very much approve of this, though, pulling out a clip from a scene that shows dramatic interaction between the main characters. And boy, does this one do that.
Something about this just SMACKED of
Jane Eyre
for me. Not like: this is a Jane Eyre rip-off–it was like this is a new story starring some big, ferocious, fire-scarred guy named Magnus who could be Rochester's cousin. It had the FEELing of being like something I really liked. To me it promised a Jane Eyre type experience with less antiquated language and more sensuality if not outright sex. Woohoo!
The characters are actually well into the story by this time. You can tell by what you've read that they're already living together. This is after they've spent some time together in the story and there's just this world of misunderstanding between them. The intrigue part of the plot, in which she thinks someone is trying to kill her has just started. So there's meat here.
It's an excerpt that shows the personalities of both characters, hints at the romance and intrigue plots, gives you a clear glimpse of the inner turmoil and pain of both characters, is packed with sexual tension, and ends on a kiss.
So obviously I bought it, and it should have sat at the bottom of my TBR file for a while. But it couldn't. In fact, it was past time for me to go to bed when I started the thing. I had just finished something else that was not very good, and, having gotten that off my plate, I just wanted a peek at this one. I couldn't stop wondering if it was going to be good, and I was just going to read a few pages, maybe a chapter or two, just to see what it was like.
And then, at 2am, I finished it.
Obviously I really enjoyed this book. The writing was fine, the period stuff not overdone at all. The characters were well developed and the romance was lovely. Didn't make me cry, but then few things do. If you're expecting a mystery, please don't. The culprit behind the heroine's mishaps was pretty easy to spot, though the motive wasn't really. That part of the book being weak is my only complaint. But really, I loved the love story so much, I couldn't care less.
So I'm giving 4 out of 4 cookies to
Ms. Barrett
for
Nothing to Commend Her
, for keeping me up half the night, and for teaching us something about how to lure me into buying a book. You already know that I got mine at
Fictionwise
, and you can also check it out at
Wild Rose Press
.
~Cookie
//
Click on image to enlarge.
Nothing to Commend Her [MultiFormat]
eBook by Jo Barrett
| | | | | | |
| --- | --- | --- | --- | --- | --- |
| | Regular | | | | Club |
| You Pay: | $6.00 | | | | $5.10 |
| Micropay Rebate: | $2.40 | | | | $2.04 |
| Cost After Rebate: | $3.60 | | | | $3.06 |
| You Save: | 40% | | | | 49% |
eBook Category: Romance
eBook Description:
The Earl of Pensby lost his wife in a fire, one that left him scarred in more ways than one. He's surly, brooding, and according to half the ton, a monster. Except to Agatha Trumwell, she sees so much more than his scars. But with a pitiful dowry, unfavorable looks, and a tendency to speak her mind, she has nothing to commend her, or so she believes. Can these two lonely souls find love amid the gossiping beau monde while someone plots to tear their fragile world apart?
eBook Publisher: The Wild Rose Press/English Tea Rose, Published: 2010
Fictionwise Release Date: February 2010
<!–
–>
88 Reader Ratings:
Available eBook Formats [MultiFormat – What's this?]: eReader (PDB) [242 KB] , ePub (EPUB) [225 KB] , Rocket/REB1100 (RB) [197 KB] , Portable Document Format (PDF) [685 KB] , Palm Doc (PDB) [219 KB] , Microsoft Reader (LIT) [209 KB] , Franklin eBookMan (FUB) [236 KB] , hiebook (KML) [527 KB] , Sony Reader (LRF) [260 KB] , iSilo (PDB) [180 KB] , Mobipocket (PRC) [229 KB] , Kindle Compatible (MOBI) [279 KB] , OEBFF Format (IMP) [301 KB] <!–
Words:
Reading time:
Words: 68130
Reading time: 194-272 min. min.–>
Words: 68130
Reading time: 194-272 min.
Microsoft Reader (LIT) Format: Printing DISABLED, Read-Aloud ENABLED
Portable Document Format (PDF) Format: Printing DISABLED, Read-Aloud ENABLED
All Other formats: Printing DISABLED, Read-aloud DISABLED
ISBN: d4401

She glared at his back as he made for the door. "Theatrics? Theatrics! You can take your bloody theatrics and go to the devil. I–am–leaving!"
"You're not going anywhere," he growled, as he turned, the scarred side of his face a pale contrast to the angry red flush of his skin.
But she refused to be bullied. "It is apparent that you've no need of a companion, since we speak hardly a word during meals, nor do we engage in any semblance of a conversation afterward," she said, her breathing quickened by her fury. "And you've made it painfully obvious you don't want me in your bed!"
She threw the shawl into her trunk and slammed the lid. "You couldn't even bring yourself to kiss me on our wedding day. Well, your mistress, or whoever this demon stalking me is, can bloody well have you!"
In two strides, he was in front of her, gripping her arms with such strength, a spark of fear gripped her as strongly as he did. Would he harm her, beat her?
Then she looked into his turbulent gray eyes. No, he was furious, but there was something else, something deeper, something that told her he would never raise his hand against her.
"There is no mistress," he snarled.
Odd that she believed him, but she would not remain where she was of no use, where she wasn't wanted.
"And I was pushed," she ground out.
"Then I'll assign you a bloody guard, but you are not leaving," he demanded with a vigorous shake. "Do you hear me?"
She couldn't utter a word amid the chaotic emotions flashing across his face and in his eyes.
"You cannot leave me," he said, his words broken and pain-filled. Then his lips crashed into hers.
---
Picking an e-reader is way more complicated than it should be.  There are a whole bunch of options out there–Nook, various models of Kindle, various models of the Sony Reader, the Kobo, and others.  Trying to choose one is a difficult endeavor.  And don't get me started on the confusion of format.  It still confuses the heck out of me.  But for those who are in the market, Jane from Dear Author has posted a very informative post over at DA to help you make the decision.  Check it out!
I really wanted to love this book. I got it free from Feedbooks. (It's also available at Smashwords.) And yes, this book was given free by the author. I think the author has a lot of potential but isn't quite ready for prime time. There are several issues that create problems for this book.
The Mating is a werewolf story. Elise thinks she's in love with Bryan, one of her pack mates. But her father, forms a political alliance and marries her off to a neighboring pack's alpha, Kane, for the good of the pack. Elise of course has to work through her feelings and get to know Kane and at the same time there are troubles for the pack, an oil company wanting to drill on their land, and a conniving she-wolf, Marla, who seems to want to take Kane. Since Elise and Kane are only formally mated (Like a marriage ceremony and having consummated that ceremony) but not blood bonded (mystical connection through a shared bite), there is some risk to their relationship.
Bad Points:
1. Too many editing issues. There were a lot of situations where the book left out words or repeated words and it got to be irksome.
2. Too long. This book is over 100,000 words. And it could have stood to have at least 20-30k cut from it. There were a lot of long thoughtologues and a lot of redundancy. It was as if the author didn't trust that the reader was smart enough to know where she was going with things. As a result…
3. The ending was telegraphed WAY before we got there. I'm not sure how much was meant as a surprise and how much wasn't. But none of it really was. I pretty much figured from the very beginning who was the bad guy and who wasn't, even though ostensibly I wasn't supposed to catch on.
4. Too much minutiae. I honestly don't care about preparations for dinner, or showering or any of the other little details. Unless it's actually important to the story. Beginning writers often have an issue where they feel the need to tell every single little thing the character does, no matter how mundane. And then they use those mundane times as excuses to give us long thoughtologues. So there was a lot of telling rather than showing.
5. Once I got halfway through the book, I was so irritated by how it was just dragging on and on, that I started skimming the rest of the way to the end.
Good Points:
1. Sex scenes were fairly well-crafted.
2. Characters that were supposed to be likable were likable.
3. The author created a detailed world. (maybe a little too detailed.)
4. Overall it's a good story. It just needed more editing, particularly a lot of cutting out of redundant scenes and long thoughtologues.
Most authors really cannot sustain a super long narrative and do it effectively. This is true in NY publishing as well. I've read my share of NY published books that just went on and on about stuff giving me all kinds of crap I don't care about. I'm guessing the author was writing to a word count and was padding out past their natural writing length.
Indie authors do not have that excuse. You can make your book as long or as short as you want as an indie. The number one rule of fiction is "don't be boring." No matter what anyone else says about this or that rule or thing you must or must not do, any rule can be broken if the author can pull it off, except the boring rule. There were many points in this book in which I was bored due to the fact that it just dragged on too long.
My advice to the author would be to learn to trust that the reader can follow the plot and get on with it. Get to the meat. Don't meander. We don't need more books that dumb everything down for those who can't keep up.
I give this book 1 cookie but would consider reading another book by this author if it was much shorter and got to and stuck to the point.
FTC Disclosure: I found this book available free (legally free). Author did not contact me. I did not pay money for it.
Note: Due to the author's reaction to this review, I've decided to forego further opportunities to review her other books. What we each consider "good" in a book is wildly different. I had cut the author slack because it was a first attempt and I can appreciate that first books are a little rough. However, it seems clear that the author intends to continue in this vein of describing every meal preparation scene, every shower scene, every knothole in the floor, etc. There is a good, detailed story, and then there is overwriting. Unfortunately we disagree on which category The Mating falls into.
Time out before we get into the book review to talk about publishers. I need to read more pure, self-published indie stuff, but I'll admit that right now I'm reading a lot more epubs. I blame Fictionwise for this, as I must continue to be a loyal customer while they've had their catalog decimated by the whole Agency Pricing Model debacle and they must continue to pick my pocket with new sales promotions every week. Ah, relationships.
So anyways, I'm not even 100% sure that Samhain is even kosher for this blog. I mean, they were totally hooked up with Kensington who was going to print a couple of their books a month or something, but then they weren't…I don't know. I can't keep up.
As long as it's not Agency 5, I'm reading it right now, and as long as it's not a big NY name that doesn't need our help, I'm probably going to drag it over here and yak about it. K?
That said, on with the show where we're talking about Dream Walk by Meg Allison, the first book in a planned series called "The Sentinels".  This 2008 release comes in at just over 100K words, which is a length I've shied away from lately. But stories about dreams have sucked me in since Nightmare on Elm Street. Dreamscape, anyone? So I had to check it out.
The story is about a medium named Camille who went through a major relationship trauma at the age of nineteen, at the same time she went through a major family trauma. She picked up and started over, raising her younger sister in another state, and leading a chaste and blameless life. Now a successful romance author, due to her ability to collect love stories directly from the spirit world, she has moved back to her native home. But trouble still waits…
So out of concern for her safety, her editor–who also happens to be connected as a higher up in the paranormal world which is introduced in the story, arranges for her to have a bodyguard. But not just any bodyguard. A Sentinel. One with dream-walker abilities. In addition to her concern over threats Camille has received from a possible stalker, her editor is also concerned that the nightmares she's been having are more than what they seem.
I think the biggest problem with this book may be that the style is dated. I'm not sure. Camille is one of those really good, couldn't say an unkind word, pretty much a total virgin even though she's way too old to be heroines. Sometimes she seems to have a backbone, other times it escapes her. She's not a terrible heroine, but I feel like I've read her before. Likewise with the hero who was a hottie, but we've seen it before: the bodyguard with the abusive childhood, the never fully overcome drinking problem, the painful past in which someone was killed and it still haunts him…
Moreso than the characters, however, it was the style that got to me. Unlike today's fiction which is much more fast-paced and driven, this story took its time, sometimes excruciating time, giving us the true thoughts and emotions of the characters in every single scene. And while some of that is good, too much of it was not good.
I had to work really hard to get through this book, and after I did, I really didn't feel like it was worth it. There were no surprises. (There were surprises for the characters, but I wasn't surprised.) The climactic end scene just wasn't all that great. There was a bizarre magical thing that happened at one point that, rather than seeming original and neat came off to me as unnecessary and silly. And worse, it made the love scene kind of silly after we had slogged through pages of relationship angsting to get there.
I hate to sound harsh. It wasn't a horrible book. Prose and command of language were fine. World-building was good and there were some really nice descriptions. There weren't any gaping holes in the plot, although the plot itself was rather thin. I'm giving it 2 out of a possible 4 cookies because maybe it just wasn't for me.
Neither Ms. Allison nor Samhain seem to be making it particularly easy to pass on the link love. You should find it at the usual book places as it's available in e and print. I got mine at Fictionwise, of course.
Warning: Scenes of leather-clad hero may induce spontaneous drooling, erotic fantasies, and unfair comparisons to spouse or significant other.